ForGround
Peer 2 Peer

March 19 – April 19, 2021

Los Angeles, CA
> 360 Video Documentation
> Map
ForGround starts our examination of online art documentation, private/public audience, and interpersonal exchange. Each artist was asked to show a work and participate in a book exchange with each other.
ForGround initiated Peer 2 Peer's mission with the intention to connect disparate networks of artists through exhibitions in non-traditional spaces.
How do works sprout and grow differently when they are outside?
Will sun, rain and shadow cause these works to grow like weeds?
What life will take up residence and make a home in these works?
Will they be pollinated by bees?
How will these works take root?
Do you care about the work or is it just a good excuse to get away from zoom?
Is the overgrown, the natural extension of maximalism?
Are these works, taken together, a bouquet of flowers?
Artists:
Kira Doutt
Fía Benitez
Simons Finnerty
Martha Glenn
Sterling Hedges
Elizabeth Herring
Lydia Horne
Christine Yerie Lee
Cameron Masters
Richard Nam
Rebecca Peel
Ryan Scails
Zoë Sturges
Ruoyi Shi
Cha Tori
Marina Weiner
Zenaido Zamora

Marina Weiner

String quartet in 82.5 lbs and 26 clasps - less 2.5lbs, 2021
Belts, metal cage, weights, weight bench, cinder blocks, clay and concrete harvested from 34.110482, -118.219432, 2021

7 x 15 x 13 feet
Cha Tori

HWY 191 < Old Spanish Trail < Ute Slave Trail < Diné, Ute, Paiute Trails, 2021
Salvaged gate; produce mesh; soil from 858 Ganymede Dr.; horse manure from Pelona Canyon Rd, Acton, CA; grass sod; weight; weed grass from sidewalks around Mt. Washington; lawn grass from Benbrook, Texas; ashes; bark; binder rings, safety pins, carabiner
Dimensions variable
Simons Finnerty

Untitled, 2021

C-print, plastic, paper envelope, cardboard, tape

24 x 30 x ½ inches

Zoë Sturges
Bless Your Heart, 2021
Acrylic, plaster
22 x 6 x 10 inches
Christine Yerie Lee
wetscape IV, 2021

ceramic vessel, unfired red clay, cowboy cologne (artemisia californica), perilla leaf, jade plant, collected rocks, water, water pump, pvc pipe

16 x 16 x 18 inches

wetscape V, 2021
ceramic vessel, unfired porcelain clay, mugwort seedlings, yarrow plant, magnolia seed pods, water, water pump, pvc pipe

18 x 18 x 16 inches
wetscapes are a space of constant change. Made of raw clay and water, the fountain-like sculpture subsumes itself for function, while shape shifting through a cycle of destruction and reconstruction (from clay to slip, repeat). Instead of presenting harmonious representations of landscape, wetscapes offer forms that are transient, formless, uncontrollable. They are multi-sensory living works that object to being an object. In the past, they have been a site of collaboration where participants' traces are imprinted onto the clay. These ceramic vessels house remnants from previous iterations, or "mother" wetscapes, that have been preserved and fired, along with plants traditionally used in healing practices across Asia and North America. How do we cultivate a space for growth, contemplation, symbiosis, and care? Is it possible for these life forms to not only survive, but flourish into its own ecosystem?

Cameron Masters

Fist, 2021
acrylic and graphite on canvas
24 x 20 inches



Lydia Horne
Security Blanket, 2021

fleece, images captured between 11/2020 - 2/2021

60 x 80 inches

Fía Benitez
Future fire, 2021

Unfired clay, acorns and flowers from CalArts campus, crystals, linen

Dimensions variable



Richard Nam
Cat Face, 2021
Ceramic
10 x 12 x 12 inches




Lucy, 2021
Ceramic
12 x 7 x 12 inches




Peter, 2021
Ceramic
18 x 7 x 9 inches
Sterling Hedges
Offering for Equinox, 2021

Blueberries, Strawberries, Lavender, Beets, Onions, earth

44 x 26 inches

Untitled (Single Beet), 2021

Rock, Beet

12 x 10 x unknown inches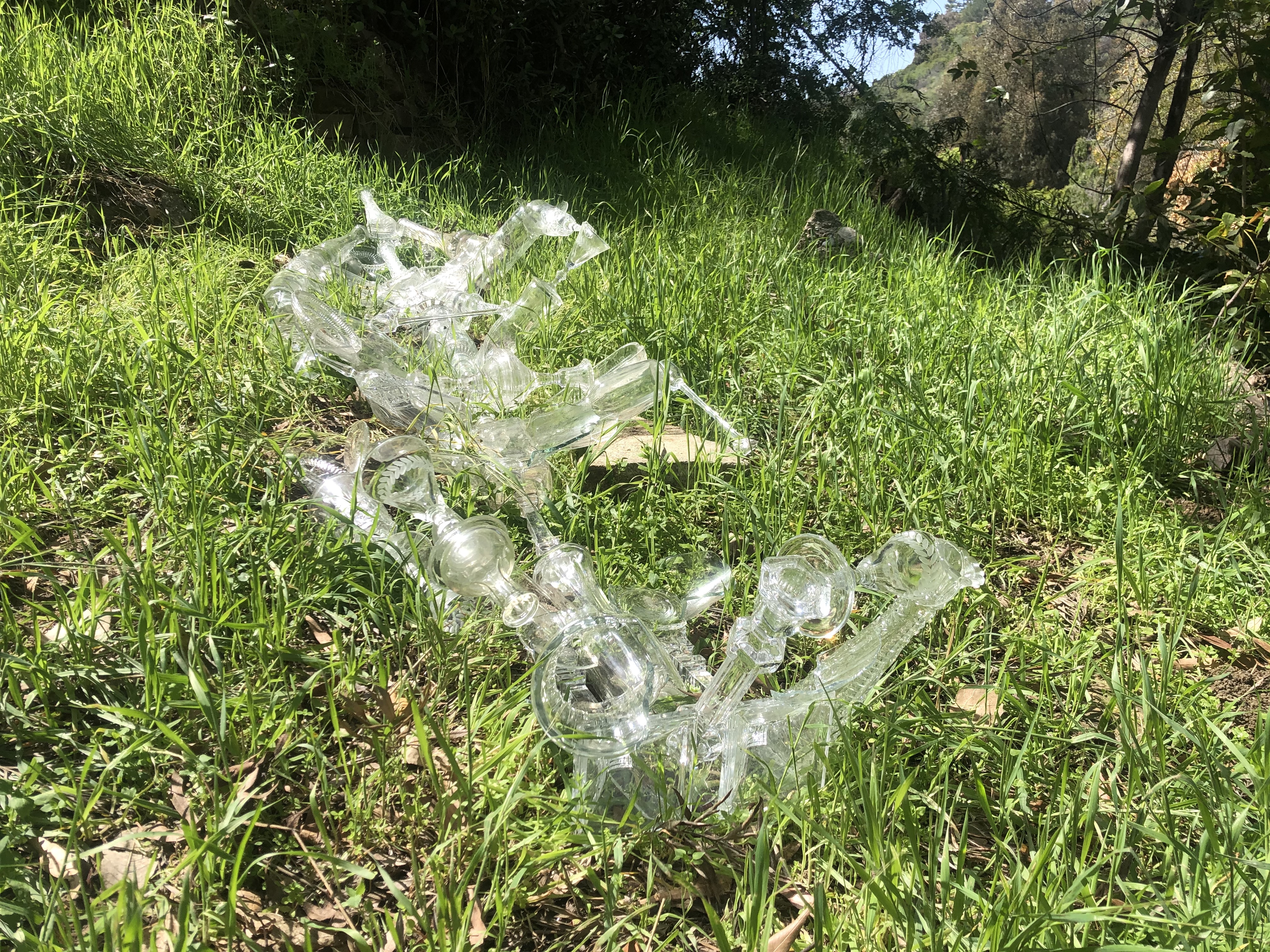 Ruoyi Shi
I Sit and Watch as Clouds Rise Up and Appear, 2020

Glassware

84 x 18 x 8 inches
Watch Waterfall behind Walmart
Rebecca Peel
girlhoss 1, misty mae, 2021
cotton shop rag "snowdevils" t-shirt (treated with motor oil and metal filings), iron and steel hardware, leather, walnut and pine frame, rubber bungee
23 x 18 x 3 inches (without install hardware)

girlhoss 2, phyla rose, 2021
cotton shop rag "big game forever" t-shirt (treated with motor oil and metal filings), iron and steel hardware, leather, walnut and pine frame, rubber bungee
23 x 18 x 3 inches (without install hardware)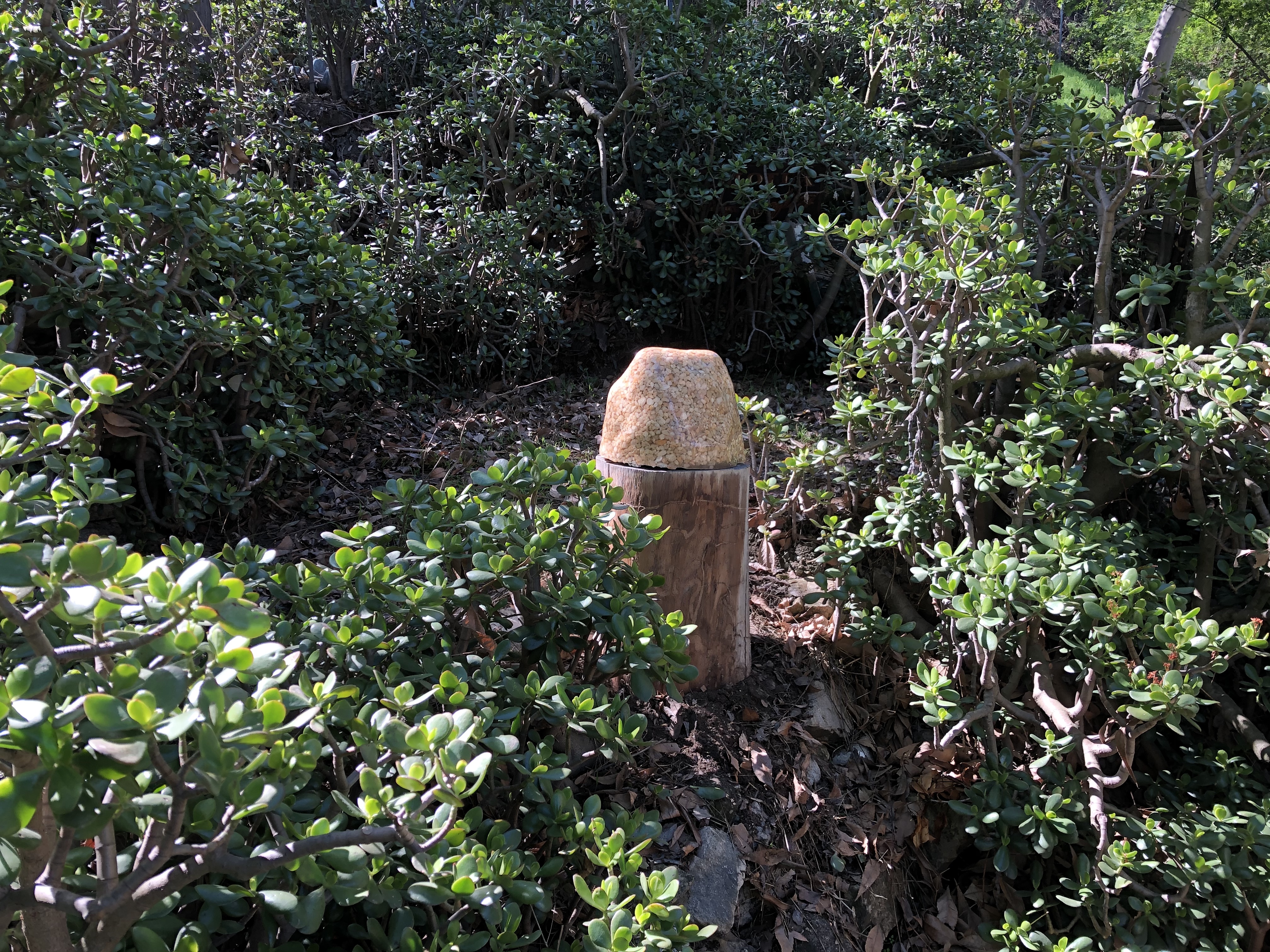 Martha Glenn
Stone 1, 2020

Eco-Poxy, XTC-3D, pebbles

12 x 12 x 10 inches



Kira Doutt

Birdbath, 2021

Materials: styrofoam, oil paint, gouache, ceramic

Dimensions: 33 x 18 x 18 inches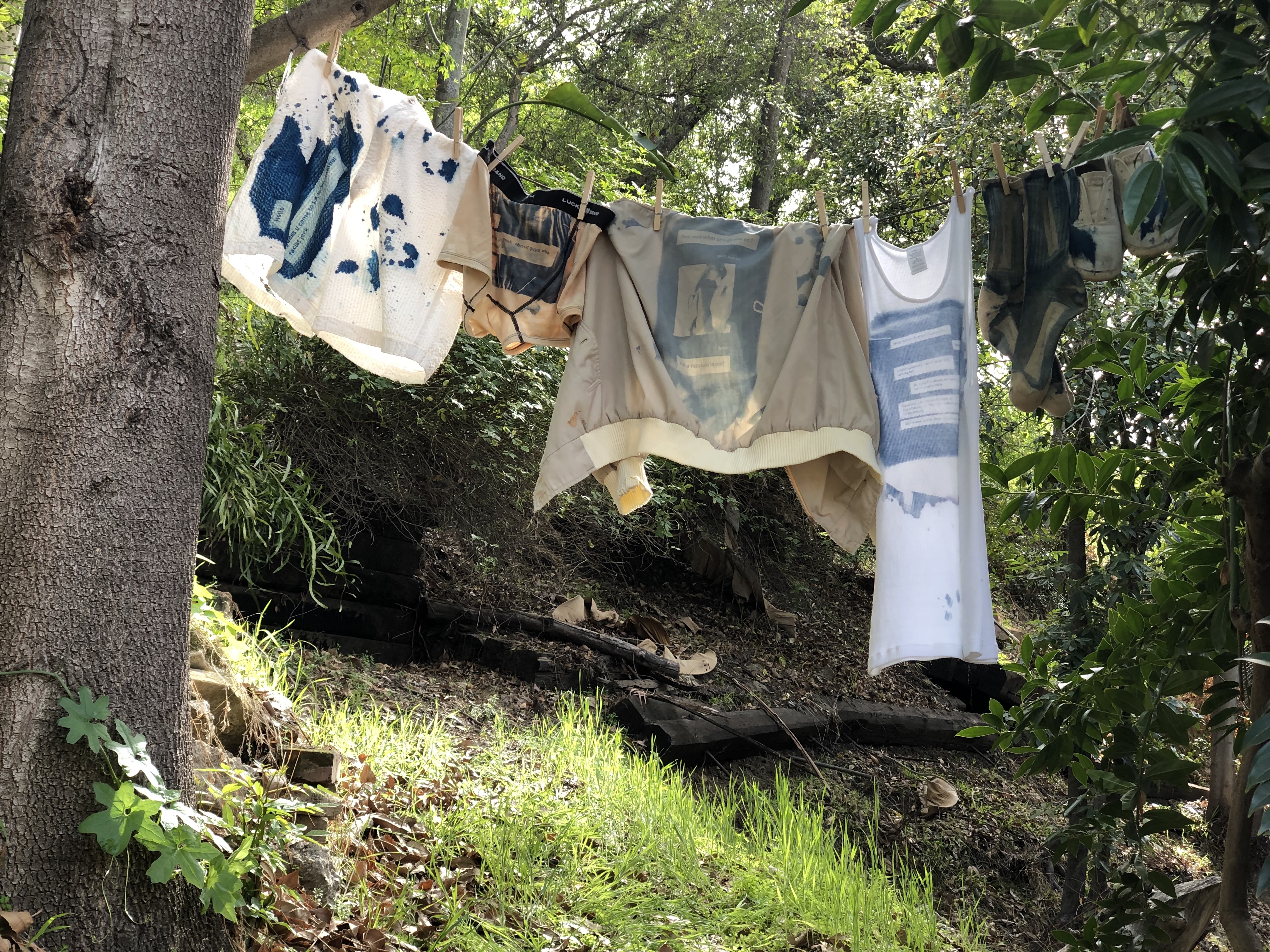 Zenaido Zamora
Hangman, 2021

paracord, wood clothespins, cyanotype on secondhand clothing

Dimensions variable
Viewers are encouraged to touch the work.

Watch the Hangman performance
Ryan Scails
This One Stays (For the Good of the Family), 2021

Cotton canvas, webbing, thread

approx. 16 x 16 x 26 ½ inches



Elizabeth Herring
LOOK, 2021

Swooper flag, flag pole

11½ x 2½ feet